by Pam Howe
A friend and I decided to share the cost to try a variety of products that use little or no plastic in their product or their packaging. This is by no means all the less-plastic products out there, just a sampling. Some of them cost a little more than what you can find in the supermarket, but I feel it is worth it to reduce our plastic waste.
Bathroom
Toilet tissue from Who Gives a Crap: These rolls made of 100% recycled paper come individually wrapped in paper in a cardboard box. They work very well, and we will keep using them. I also like that 50% of the profit goes to buying toilets in underprivileged countries.
You can read more about recycled-paper toilet tissue, paper vs. plastic wrapping, and price comparisons in Becca's article What's the REAL cost of your toilet paper?
Who Gives a Crap also sells facial tissues and paper towels made from bamboo. They are better than regular tissues and paper towels, but I am also looking for alternatives to disposable versions of these products. . . .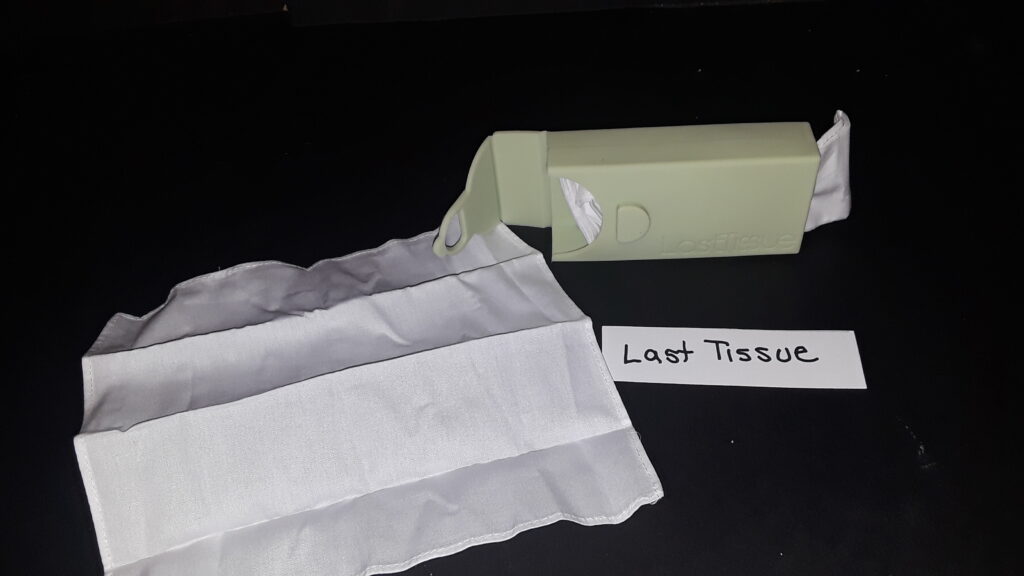 Handkerchiefs from LastObject: Several people I know are using handkerchiefs instead of tissues. I found a nifty container called LastTissue that is great for carrying the handkerchiefs in your bag. It is a silicone container that holds 6 handkerchiefs. There is a slit at the bottom where you pull out a clean handkerchief. You open the top to put in the used handkerchief. A silicone barrier is sewn on one of the handkerchiefs to separate the dirty ones from the clean ones. This way you always have a clean handkerchief and the dirty ones are contained in one place until you are ready to wash them.
LastObject also makes a reusable alternative to cotton swabs, but I haven't tried this product.
Toothpaste tablets from Bite: These are tablets that you gently chew to create a foam for brushing your teeth. The tablets come in a refillable glass jar. My friend liked these tablets a lot and would definitely buy them again. I was ok with them, but I am not sure I would want to use them all of the time. My husband did not like them at all. Regular toothpaste seems to surround the teeth better than the tablets. However, they would be great to use on vacation or camping trips.
Bite also makes tablets for mouthwash, which we did not try.
Minted waxed silk dental floss from etee: This came with a glass container and 2 spools of dental floss. My husband and I liked this floss and would buy it again. It actually seems to work better than the slippery plastic floss. You can buy just the floss–for refilling your container–but it is a little hard to find it on their website; click the arrow under "size" on the floss kit's page.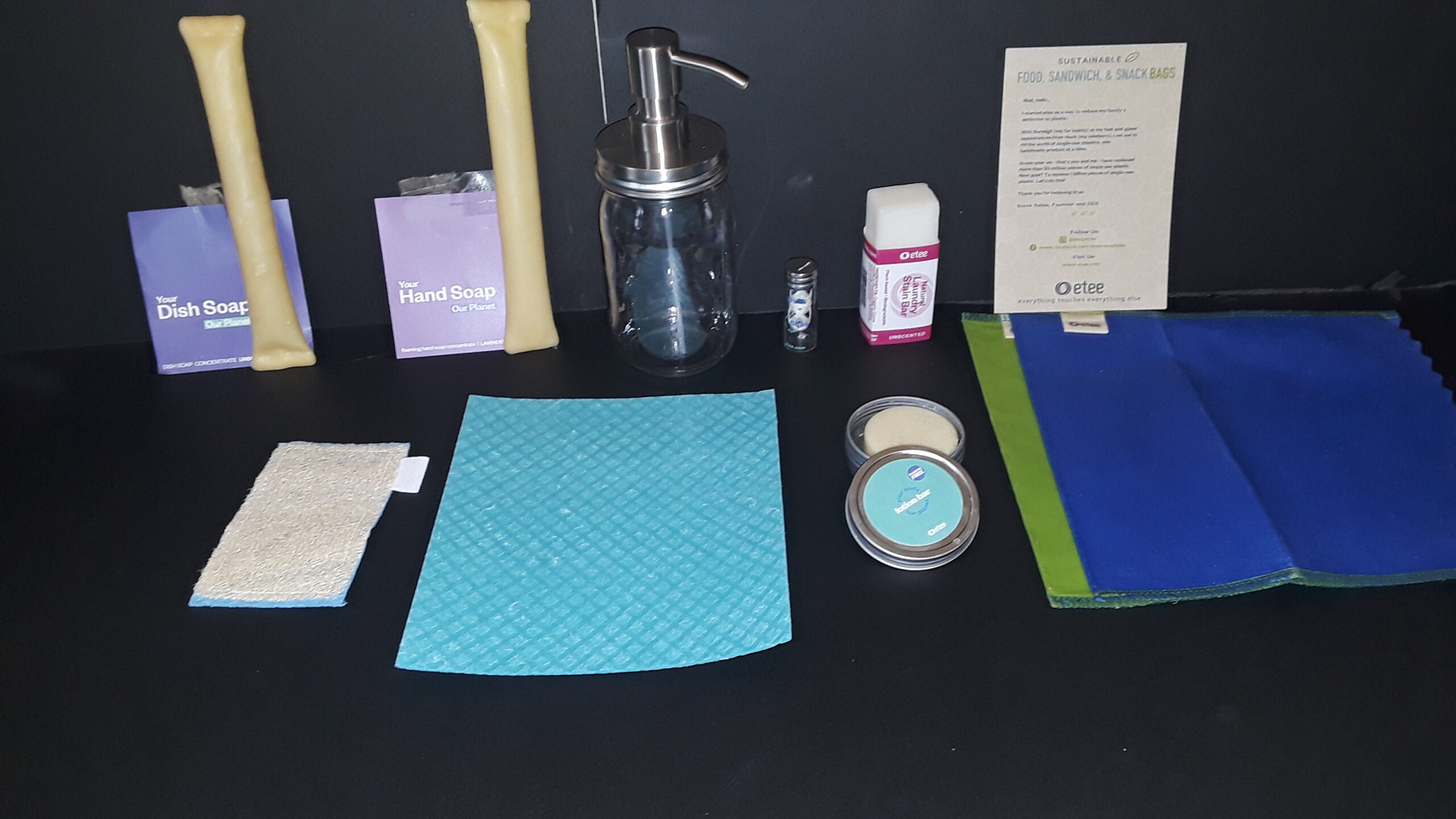 Hand cream from etee: This is a small bar that comes in a metal tin. Your skin warms the bar so it can be rubbed on the body. It works fine for things like my dry heels. However, I am still not sure I would be able to give up hand cream for my hands. This cream seems to sit on top of the skin rather than being absorbed into the skin as much as the hand cream I've been using.
Shampoo and conditioner bars from The Earthling Co.: I really liked the idea of using bars instead of liquids from plastic bottles. However, although I liked how my hair looked and felt, I developed an itchy scalp when I used this brand. I wrote to the company to ask if they knew what I might be allergic to but received no answer.
I bought some new shampoo and conditioner bars from etee which are working well and do not cause the itching.
Deodorant from by Humankind: This deodorant comes with a refillable container. It works pretty well.
I had been using Native deodorant, which is made of natural ingredients free of petroleum and aluminum, but it came in a plastic container. Native has just come out with a paper container on some of their scents. Unfortunately the paper container is not sold in stores yet, but you can get it on Amazon. The Native deodorant is a little softer and is a little easier to put on than the by Humankind.
Laundry room
Laundry detergent pods from Dropps: This powdered laundry detergent, in the amount you need for one load, forms a "pod" in a plastic-looking wrapper. Many pods are packed into a cardboard box. The pod wrapper is made from polyvinyl alcohol, which is considered a biodegradable polymer. It can be made from synthetic sources or plant oils. It is considered marine safe. However, I read that the starting compound is ethylene gas, which is made from oil. So, even though it worked well, we are looking at other options.
Laundry detergent sheets from Kind Laundry: I really liked these. They worked well and had a shorter list of ingredients than other brands. However, although it was not as obvious, the sheets also are made with PVA. When I contacted the company, they said that their PVA was made from coconut oil which is better than the synthetic kind. Unfortunately, some of my research has indicated that there really is not a difference. I have decided to avoid PVA at this time.
Laundry detergent tablets from Blueland: These come in a refillable metal box and have no PVA in them.
Any form of condensed laundry detergent is better for the environment than a liquid in big plastic jugs, because the smaller volume and lighter weight mean less energy is used in transporting the detergent. You can read more about this and more about PVA in Becca's review of Tru Earth laundry detergent strips.
What I'm going to try next is a powdered detergent from etee that uses only 1 tablespoon per load.
Wool dryer balls from Dropps: These are used in the dryer to soften the clothes and reduce static. They help, but I really missed fabric softener. I am looking for other alternatives.
Kitchen
Dishwasher detergent pods from Dropps: They worked fine, but these also contain PVA.
Dishwasher detergent tablets from Blueland: These come in a refillable metal box and have no PVA in them.
Liquid dish soap from etee: We both liked this dish soap. It comes in a beeswax tube that you open and pour into your own bottle with 12 fluid ounces of water. (You do have to shake the bottle occasionally to keep the solution together.)
Etee also makes liquid foaming hand soap that you need to use with their jar and pump for it to foam. It also came with a loofah sponge which I absolutely loved. It does not get smelly. Also, they have cellulose cleaning cloths that do not smell either. Both can be composted when they wear out.
Etee makes everything they sell so they can oversee the entire supply chain. It is all plastic-free. Their factories are powered by renewable energy.
Spray cleaners from Blueland: They make a variety of tablets that you drop into water. I really like their kitchen cleaner. You can get a container designed for use with the tablets. The container is a hard plastic, but since it can be refilled, I figured it is not as wasteful. Also, it should not break if dropped, unlike a glass container.
Hopefully this will give you some ideas on how to reduce your use of plastic in your household. See PASUP's recommended reading page for more ideas.